EduCode™ Academy Blog

---
Peter Hess Announced as New Chief Executive Officer
July 23, 2020
EduCode Academy today announced that Peter Hess has been promoted to Chief Executive Officer (CEO), effective July 2020. Peter joined EduCode originally in January of 2020, in the role of Vice President, Marketing & Sales.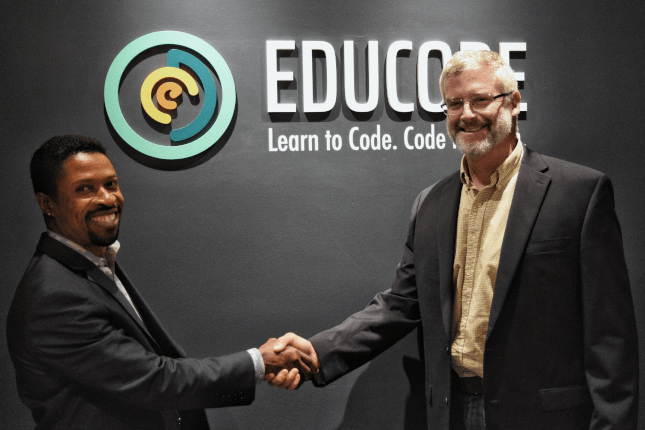 Peter brings 30+ years of business experience across Canada and in the USA, with the last 5+ years being in the Educational Technology field in Atlantic Canada. A proud graduate from Mount Allison University's Commerce program, Peter also earned a Masters of Business Administration (MBA) degree from Purdue University's Krannert Graduate School of Business in West Lafayette, IN, during his time living and working in the US.

Additionally, Peter's experience benefiting EduCode Academy moving forward include:
9+ years with John Deere Construction Equipment Company out of Vancouver, BC, and then Moline, IL, handling negotiations and relations with dealers in addition to large key customers in the market segments he managed across North America.
5 years as the Managing Director of the New Brunswick Aerospace and Defence Association.
Co-President and part owner of a local New Brunswick-based EdTech distribution company representing various solutions for the Education sector.
Business Mentor/Coach for both the Mount Allison University Reisman Internship Program and the SHAD Canada – Mount Allison summer program.
"I am very excited to be able to work with the team at EduCode to help bring alive the vision our founder, Guyverson Vernous, developed for how educating our children can be adapted from the post-war era format to a much more 21st century style, using the technology available to us," says Peter Hess. "We hope to leave a positive impact on the world we live in through bringing our tools and our vision to the aid of millions of children around the globe."
"Peter brings the experience and leadership required to bring EduCode to the next level," says Guyverson Vernous, Founder & Board Chair at EduCode Academy. "We look forward to watching EduCode Academy grow and prosper under his passion and his guidance."
About EduCode Academy
EduCode Academy is a Moncton, NB, based EdTech start-up.
EduCode™ software hosts online, self-directed courses empowering students of all learning styles to learn coding independently. Our fully immersive and fun micro-lessons and exercises use story rich animation and real-world problems to teach and engage students for hours.
EduCode™ software's key difference resides in these video micro-lessons, which break down complex computer science concepts into fun and engaging exercises, while the rich storylines provide context and motivation throughout their learning journey. Our approach allows learners to dive into computer science principles on their own, leading to a deeper level of understanding.
Keep reading