EduCode™ Academy Blog

---
Peter Hess Announced as New Chief Executive Officer
July 23, 2020
EduCode Academy today announced that Peter Hess has been promoted to Chief Executive Officer (CEO), effective July 2020. Peter joined EduCode originally in January of 2020, in the role of Vice President, Marketing & Sales.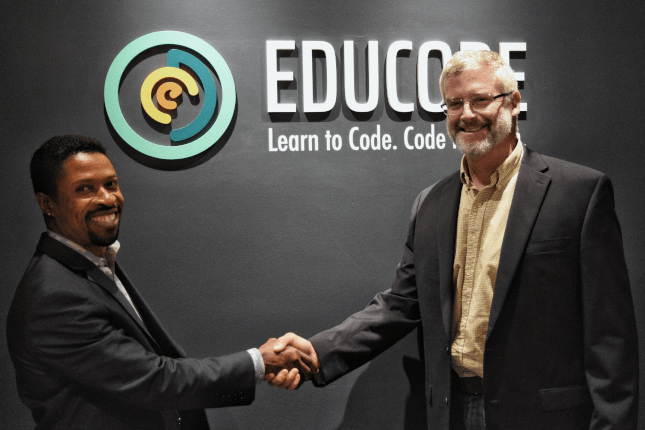 Peter brings 30+ years of business experience across Canada and in the USA, with the last 5+ years being in the Educational Technology field in Atlantic Canada. A proud graduate from Mount Allison University's Commerce program, Peter also earned a Masters of Business Administration (MBA) degree from Purdue University's Krannert Graduate School of Business in West Lafayette, IN, during his time living and working in the US.

Additionally, Peter's experience benefiting EduCode Academy moving forward include:
9+ years with John Deere Construction Equipment Company out of Vancouver, BC, and then Moline, IL, handling negotiations and relations with dealers in addition to large key customers in the market segments he managed across North America.
5 years as the Managing Director of the New Brunswick Aerospace and Defence Association.
Co-President and part owner of a local New Brunswick-based EdTech distribution company representing various solutions for the Education sector.
Business Mentor/Coach for both the Mount Allison University Reisman Internship Program and the SHAD Canada – Mount Allison summer program.
"I am very excited to be able to work with the team at EduCode to help bring alive the vision our founder, Guyverson Vernous, developed for how educating our children can be adapted from the post-war era format to a much more 21st century style, using the technology available to us," says Peter Hess. "We hope to leave a positive impact on the world we live in through bringing our tools and our vision to the aid of millions of children around the globe."
"Peter brings the experience and leadership required to bring EduCode to the next level," says Guyverson Vernous, Founder & Board Chair at EduCode Academy. "We look forward to watching EduCode Academy grow and prosper under his passion and his guidance."
About EduCode Academy
EduCode Academy is a Moncton, NB, based EdTech start-up.
EduCode™ software hosts online, self-directed courses empowering students of all learning styles to learn coding independently. Our fully immersive and fun micro-lessons and exercises use story rich animation and real-world problems to teach and engage students for hours.
EduCode™ software's key difference resides in these video micro-lessons, which break down complex computer science concepts into fun and engaging exercises, while the rich storylines provide context and motivation throughout their learning journey. Our approach allows learners to dive into computer science principles on their own, leading to a deeper level of understanding.
Keep reading
July 30, 2020
EduCode Academy is happy to announce new projects have just been added to our Advanced Game Development course, extending your learning experience with this course and making it even better!
July 23, 2020
EduCode Academy today announced that Peter Hess has been promoted to Chief Executive Officer (CEO), effective July 2020. Peter joined EduCode originally in January of 2020 in the role of Vice President, Marketing and Sales.
July 6, 2020
Educode is heating things up, with fantastic savings of 50% to 80% OFF for our subscription plans.
June 4, 2020
The term "back to school" may come with a lot of uncertainties for many teachers during the upcoming school year. We believe Educode can help.
May 5, 2020
We would like to thank all of the many EduCode teachers and learners who submitted entries for this contest. There were some very interesting videos and photos submitted, making it a very challenging job to pick the winners. Congratulations to Brenda from Mexico and Rianna from India for your winning submissions to our EduCode video contest in April!
May 4, 2020
With the COVID-19 pandemic situation, we are not able to thank our teachers in person for what they do for us and our children. We certainly learned to appreciate our undervalued teachers during these past weeks! Now, with our kids home and trying to continue the learning journey for them ourselves, we recognize how crazy a job teachers really have.
April 28, 2020
With businesses and schools closed due to the coronavirus pandemic, many education businesses are having to pivot to a new business model to adjust to the new normal. We reached out to a few of our coding camp partners to see what they are doing to address the needs of social distancing and what changes they are enacting – which may become a normal part of their offering going forward.
April 21, 2020
Looking for something fun to do with your children while they are not working on their EduCode lessons, cooking with you or doing other educational projects? EduCode wants to hear from you!
April 13, 2020
Just over one month has passed since the World Health Organization declared the novel coronavirus Covid-19 a pandemic on March 11th. A lot has transpired since then, impacting virtually every student and family across the globe. In our mutual response to battle this quickly spreading virus, we have seen global collaboration of the scale never experienced before.
March 26, 2020
Today, with COVID-19 worries, the NHL playoffs will most probably not take place this year, but we can still pin up messages of hope in our windows. In New Brunswick, there is a movement called "NB we will be OK," that is quickly spreading across the province.
March 20, 2020
The continued spread of coronavirus (COVID-19) around the world has understandably raised concerns for you and your families. At EduCode, the well-being of our valued customers is of the deepest concern to us as this situation continues to evolve and we commend those of you who have taken on the challenge to #FlattenTheCurve by staying home!
March 16, 2020
Now that COVID-19 has shut down many schools, as well as daycare centers, movie theaters and play houses, governments are recommending that we all practice social distancing in an effort to "flatten the curve." What does this actually mean?
September 17, 2019
To enjoy the full benefits of a tech-driven economy, students need to know more than just how to use technology, but also how it works and how to create it. This is where learning to code comes in.
August 20, 2019
Over the past decade, technological breakthroughs have spurred exponential growth for career opportunities in both existing and new fields. One-third of new occupations in the United States were created only in the past 25 years.
August 1, 2019
We started this series of blog articles to help instructors, facilitators and educators plan, run and teach STEM classes or programs more effectively. Lessons should be as enjoyable and engaging for the teacher as the student. We hope that the topics we cover will provide you with some new ideas, insights and tools to create a truly immersive learning environment for your students.