EduCode™ Academy Blog

---
What to Do With Your Kids During the COVID-19 School Shutdown
March 16, 2020
Now that COVID-19 has shut down many schools, as well as daycare centers, movie theaters and play houses, government are recommending that we all practice social distancing in an effort to "flatten the curve." What does this actually mean?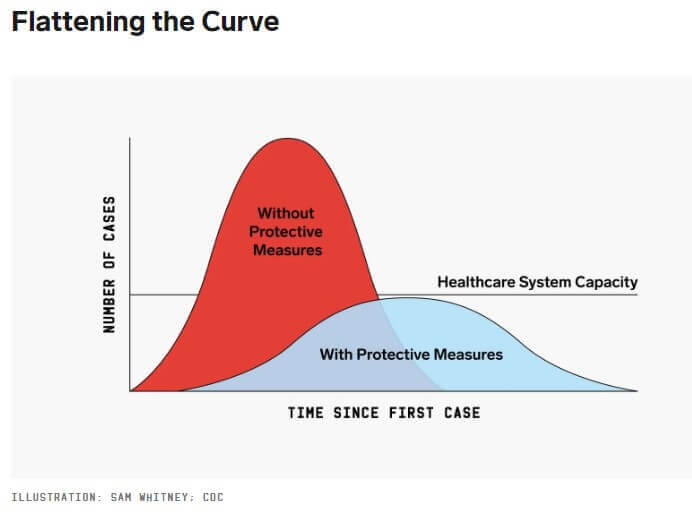 As you can see from this now familiar chart, if we strictly follow the recommended protection measures, we can lessen the burden placed on our healthcare system. Washing hands religiously is number one, but there is also social distancing. If you have children at home because of school cancellations, this can be a trying time. It is perfectly normal for children to feel worried or nervous and have questions about what is happening. How the situation is handled will strongly affect how children will respond. It is, therefore, important to remain calm when your children talk about the virus. Reassure them they are safe and there are many things they can do to stay healthy:
Hand washing: Wash hands often with soap and water for at least 20 seconds.
Keep clean: Keep hands away from the face and mouth.
Cough or sneeze: Cough or sneeze into your arm or a tissue.
Stay healthy: Get lots of sleep, remain physically active and eat healthy foods.
Stay at home: If you do feel sick be sure to stay at home and isolate yourself.
This last one can be difficult. Kids get bored easily, especially when thrown off of their normal routines. Here is a short list of just some of the things that kids can do to keep occupied during this time, when we are all trying to maintain our "social distance" from one another.
Overdrive:
Search for the Overdrive app at your favorite app store. With the free app – and your library card – you can borrow eBooks, audiobooks and stream video. More than 40,000 libraries worldwide offer titles through Overdrive, which is available 24/7.
Simply download the books that you are interested in and fill up your "bookshelf." You can then read them at your pleasure when you are offline. Worried about late fees? You no longer have to even think about returning books. They simply disappear from your bookshelf after the due date. And you can place a hold or create a wishlist on titles that are currently checked out.
LibriVox:
This website is a free resource where you can download audiobooks read by volunteers from around the world.
Art Galleries and Museums
Take an online tour of the
Louvre
: one of the most famous art museums in the world offers free online tours of its Michelangelo and Egyptian Antiquities, as well as other popular exhibits.
The
National Gallery of Art
founded in 1937 provides virtual tours of its Van Goghs and many other masterpieces.
The
Vatican Museums
offer some of the most important works of art and classical sculptures curated by the Popes over many centuries. You can even see the ceiling of the
Sistine Chapel
.
The
British Museum
has a collection of over 8 million artifacts many of which can be viewed online, such as objects from the Roman cities of Pompeii and Herculaneum.
The Google Art Project:
Google has partnered with more than 60 museums and galleries from around the world to archive and document priceless works of art and provide virtual tours using Google Street View technology. Here you can witness fine art from the White House to the Museum of Islamic Art in Qatar, or even street art in San Paulo!
Online Courses
While it is fun for the kids to have a few unscheduled days off from school, if it lasts for any length of time (and it looks like 2 weeks will be the minimum) it can really be a detriment to their studies. Some schools are working out programs to be able to deliver content online and most universities have offerings as well. In the interim there are a host of excellent private companies that provide online courses.
Check out
EdHelper
, who are currently offering a number of free worksheet resources from K-12, while school is out during this virus pandemic.
EduCode Academy
is the place to go to enroll in computer science courses for kids aged 10 and up. They have courses for beginners to your more advanced students.
The
University of Waterloo
is offering some free online mathematics and computing courses for middle and high schoolers.
Once the glee of missing school has worn off, it will be important to establish a new routine and some structure to your kids' days. If you do want to go down the road of providing a type of homeschool option, then begin as you mean to continue. Set the expectations and remind them: this isn't a holiday. Stay healthy and remember to wash those hands often.
Keep reading
July 30, 2020
EduCode Academy is happy to announce new projects have just been added to our Advanced Game Development course, extending your learning experience with this course and making it even better!
July 23, 2020
EduCode Academy today announced that Peter Hess has been promoted to Chief Executive Officer (CEO), effective July 2020. Peter joined EduCode originally in January of 2020 in the role of Vice President, Marketing and Sales.
July 6, 2020
Educode is heating things up, with fantastic savings of 50% to 80% OFF for our subscription plans.
June 4, 2020
The term "back to school" may come with a lot of uncertainties for many teachers during the upcoming school year. We believe Educode can help.
May 5, 2020
We would like to thank all of the many EduCode teachers and learners who submitted entries for this contest. There were some very interesting videos and photos submitted, making it a very challenging job to pick the winners. Congratulations to Brenda from Mexico and Rianna from India for your winning submissions to our EduCode video contest in April!
May 4, 2020
With the COVID-19 pandemic situation, we are not able to thank our teachers in person for what they do for us and our children. We certainly learned to appreciate our undervalued teachers during these past weeks! Now, with our kids home and trying to continue the learning journey for them ourselves, we recognize how crazy a job teachers really have.
April 28, 2020
With businesses and schools closed due to the coronavirus pandemic, many education businesses are having to pivot to a new business model to adjust to the new normal. We reached out to a few of our coding camp partners to see what they are doing to address the needs of social distancing and what changes they are enacting – which may become a normal part of their offering going forward.
April 21, 2020
Looking for something fun to do with your children while they are not working on their EduCode lessons, cooking with you or doing other educational projects? EduCode wants to hear from you!
April 13, 2020
Just over one month has passed since the World Health Organization declared the novel coronavirus Covid-19 a pandemic on March 11th. A lot has transpired since then, impacting virtually every student and family across the globe. In our mutual response to battle this quickly spreading virus, we have seen global collaboration of the scale never experienced before.
March 26, 2020
Today, with COVID-19 worries, the NHL playoffs will most probably not take place this year, but we can still pin up messages of hope in our windows. In New Brunswick, there is a movement called "NB we will be OK," that is quickly spreading across the province.
March 20, 2020
The continued spread of coronavirus (COVID-19) around the world has understandably raised concerns for you and your families. At EduCode, the well-being of our valued customers is of the deepest concern to us as this situation continues to evolve and we commend those of you who have taken on the challenge to #FlattenTheCurve by staying home!
March 16, 2020
Now that COVID-19 has shut down many schools, as well as daycare centers, movie theaters and play houses, governments are recommending that we all practice social distancing in an effort to "flatten the curve." What does this actually mean?
September 17, 2019
To enjoy the full benefits of a tech-driven economy, students need to know more than just how to use technology, but also how it works and how to create it. This is where learning to code comes in.
August 20, 2019
Over the past decade, technological breakthroughs have spurred exponential growth for career opportunities in both existing and new fields. One-third of new occupations in the United States were created only in the past 25 years.
August 1, 2019
We started this series of blog articles to help instructors, facilitators and educators plan, run and teach STEM classes or programs more effectively. Lessons should be as enjoyable and engaging for the teacher as the student. We hope that the topics we cover will provide you with some new ideas, insights and tools to create a truly immersive learning environment for your students.