EduCode™ Academy Blog

---
EduCode Academy Video Contest Winners
May 5, 2020
We would like to thank all of the many EduCode teachers and learners who submitted entries for this contest. There were some very interesting videos and photos submitted, making it a very challenging job to pick the winners. Congratulations to Brenda from Mexico and Rianna from India for your winning submissions to our EduCode Video Contest in April!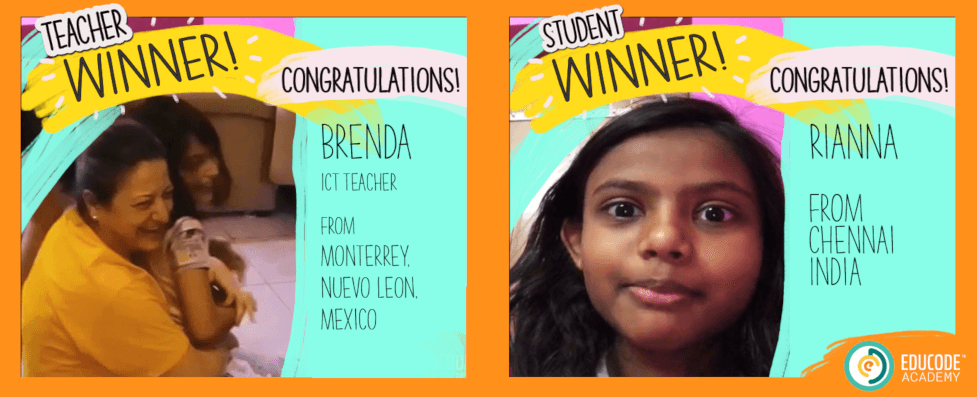 Teacher Winner
Brenda will receive as her prize a full-year class subscription for 25 of her students for the next school year at her school in Monterrey, Mexico. It looks like it couldn't go to a better person: her enthusiasm and energy keeping her children occupied and learning during this difficult period is to be commended! We truly hope you and your students put EduCode Academy to full use next school year to help with their education in a very important subject area for their futures.
Student Winner
Rianna will receive a full-year subscription to access all of the EduCode Academy coding courses. Rianna's submission was a wonderful display of courage, enthusiasm and drive. We truly hope she will be able to take full advantage of these courses over the duration of the year and that the skills and experience gained with EduCode Academy will have a positive impact on her future.
Again, thank you to everyone for playing. We hope to have more contests like this throughout the year, so please follow us on our social media channels on
Facebook
,
Instagram
and
Twitter
so you can enter in the next one.
The EduCode Academy Team
Keep reading